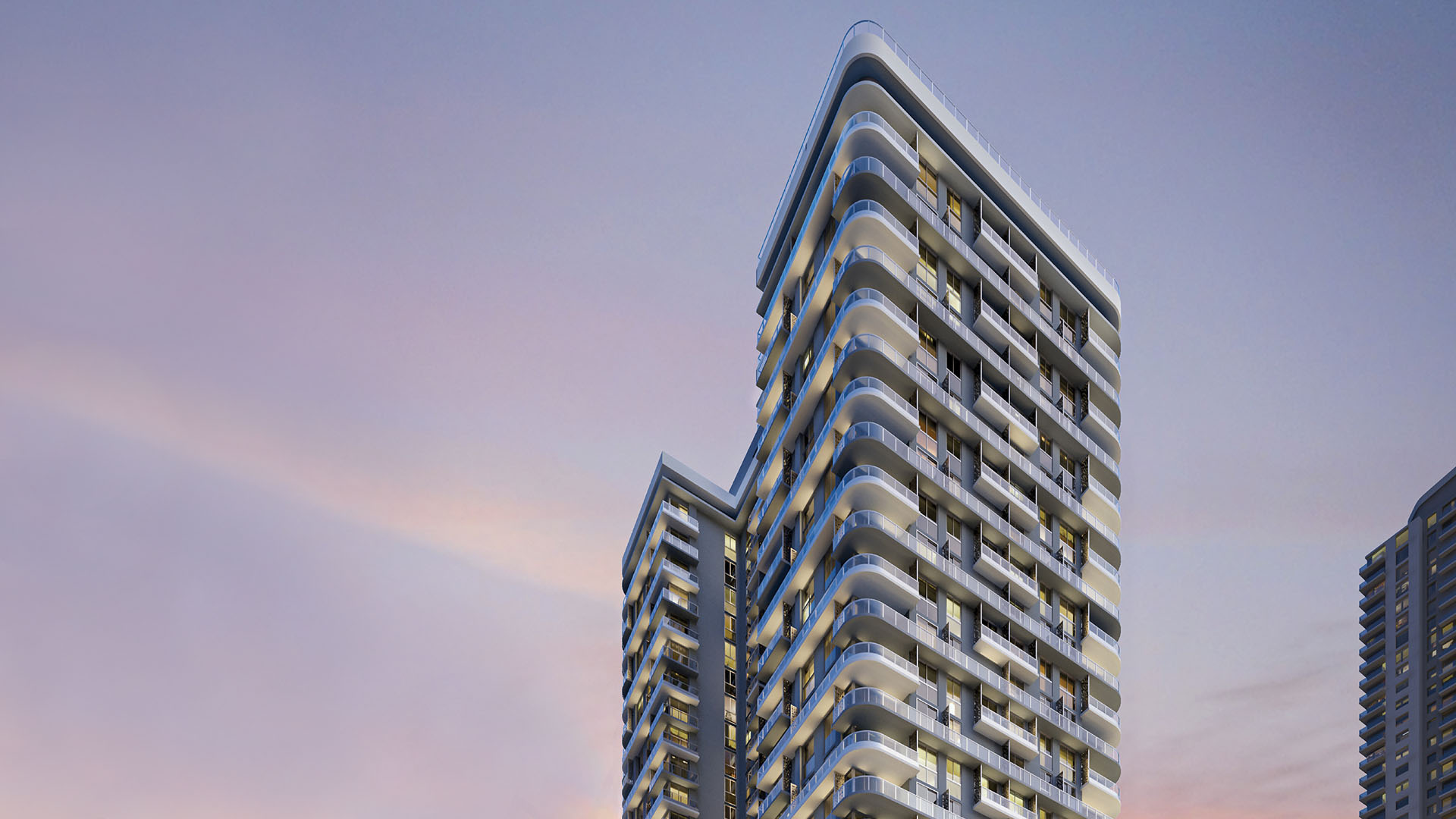 A REFINED
TAKE ON DOWNTOWN
MIAMI LIVING
RESIDENTIAL MIX
Studio
JR 1 Bedroom
1 Bedroom
1 Bedroom + Den
2 Bedrooms
414 SF | 37 M2
549 SF | 50 M2
573 SF | 53 M2
600-668 SF | 56-62 M2
830 SF | 77 M2
Square footage ranges shown hereon are approximate and subject to change and should not be relied on. Consult the Declaration for details on unit square footage.
INTERIORS
Fully finished and furnished residences thoughtfully curated by award-winning design firm, Shim Projects
Floor to ceiling glass windows with custom window treatment
All residences feature balconies
Finished flooring on all residential interiors and balconies
Kitchens and bathrooms feature custom Italian cabinetry and counters
Innovative household Smeg (or comparable) appliances featuring:

Speed oven
Integrated paneled refrigerator/freezer
Dishwasher

Top-of-the line, separate, in-unit washers and dryers
Fully built-out, generous closets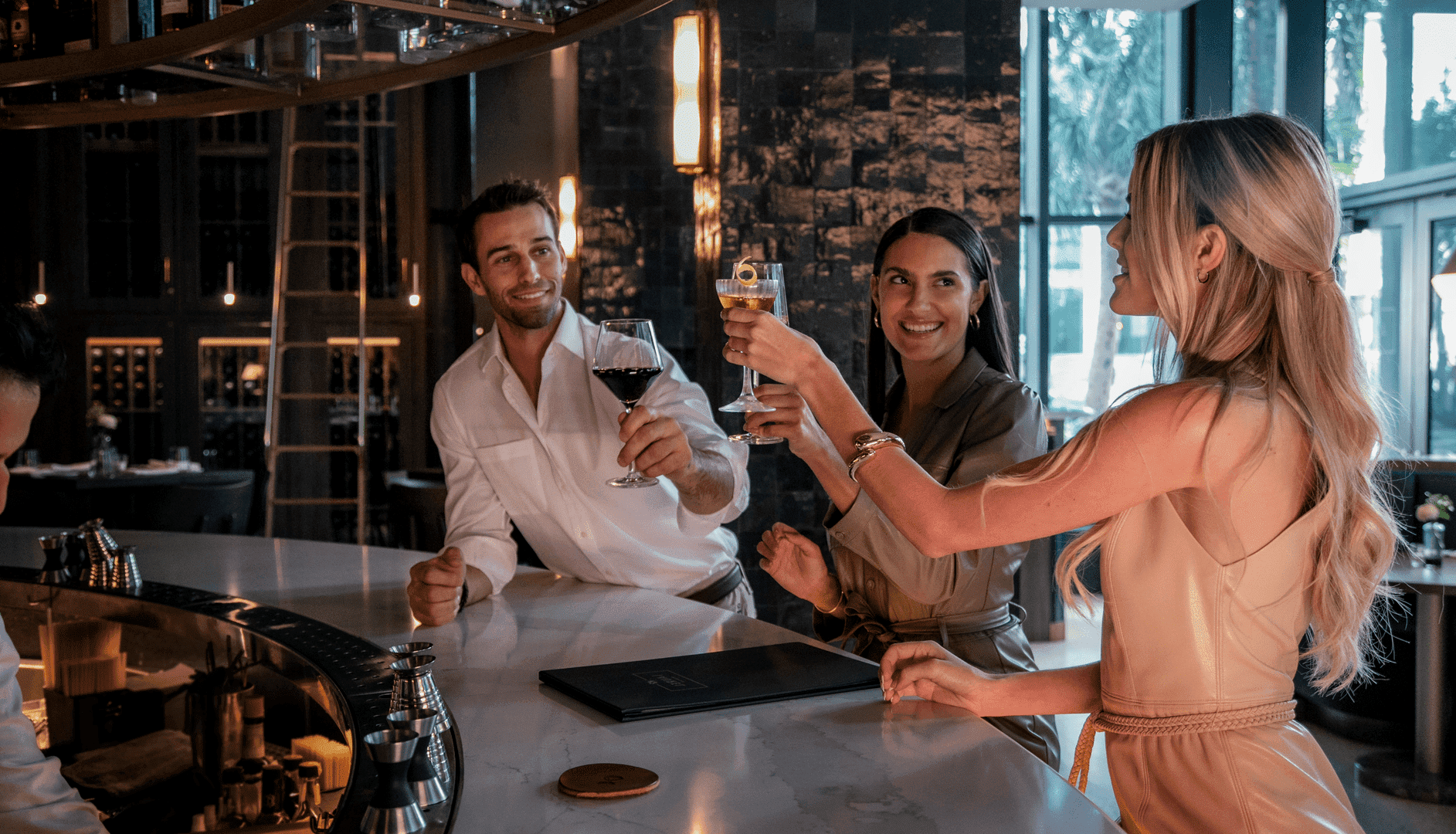 THE WORLD'S
MOST VIBRANT CITY.
YOUR NEW ADDRESS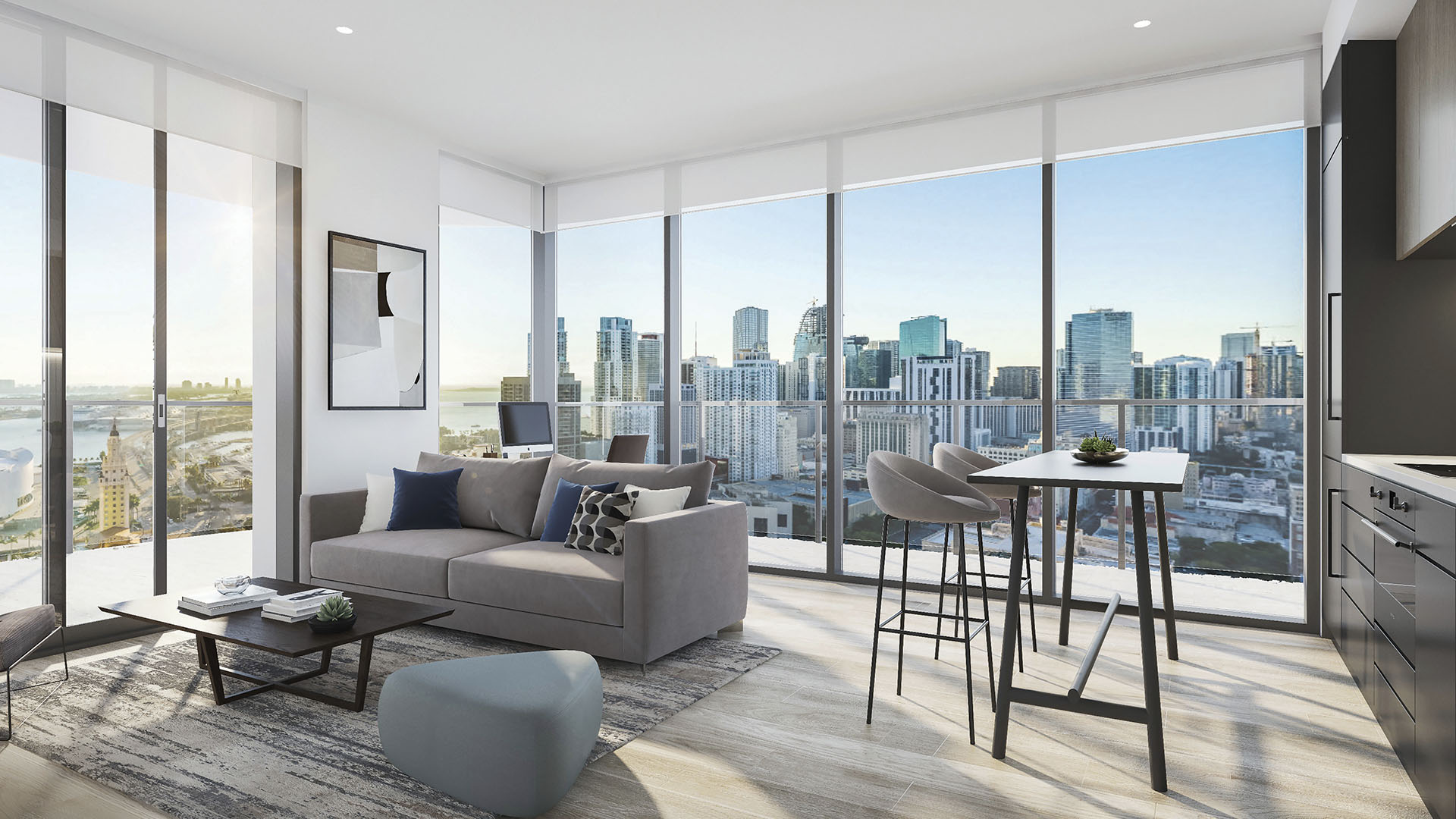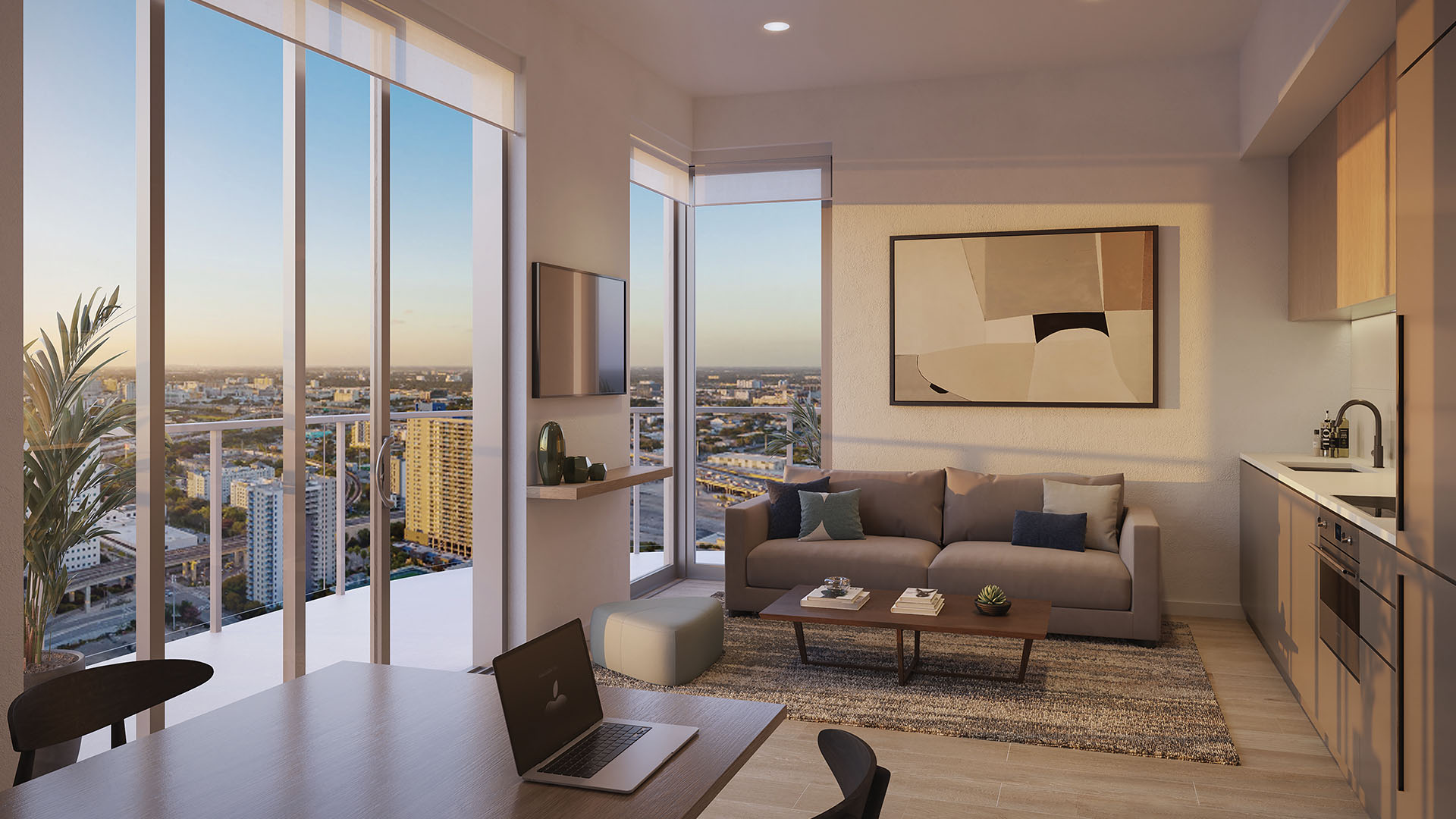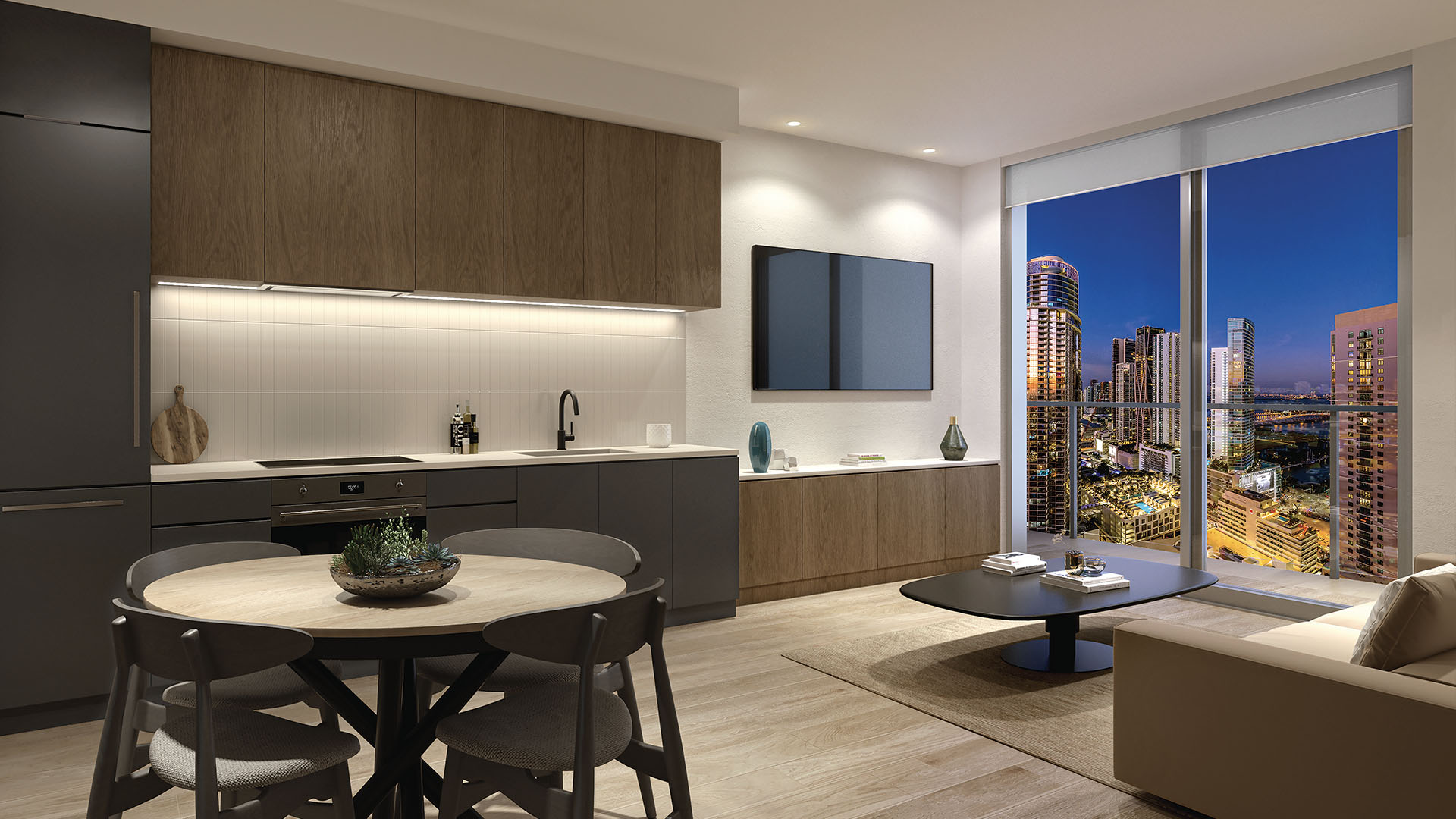 UNIT A
RESIDENCES
LINES 02, 05, 17
| | | |
| --- | --- | --- |
| INTERIOR | 830 SF | 77 M2 |
| EXTERIOR | 210 SF | 20 M2 |
| TOTAL | 1040 SF | 97 M2 |
UNIT B
RESIDENCES
LINES 09, 10, 11, 12
1 BEDROOM + DEN
2 BATHROOMS
| | | |
| --- | --- | --- |
| INTERIOR | 603 SF | 56 M2 |
| EXTERIOR | 40 SF | 4 M2 |
| TOTAL | 643 SF | 60 M2 |
UNIT B.1
RESIDENCES
LINES 20, 21
1 BEDROOM + DEN
2 BATHROOMS
| | | |
| --- | --- | --- |
| INTERIOR | 668 SF | 62 M2 |
| EXTERIOR | 40 SF | 4 M2 |
| TOTAL | 708 SF | 66 M2 |
UNIT B.2
RESIDENCES
LINES 03, 04
1 BEDROOM + DEN
2 BATHROOMS
| | | |
| --- | --- | --- |
| INTERIOR | 622 SF | 57 M2 |
| EXTERIOR | 43 SF | 4 M2 |
| TOTAL | 665 SF | 61 M2 |
UNIT C
RESIDENCES
LINES 01, 18
| | | |
| --- | --- | --- |
| INTERIOR | 573 SF | 53 M2 |
| EXTERIOR | 130 SF | 12 M2 |
| TOTAL | 703 SF | 65 M2 |
UNIT D
RESIDENCES
LINES 19, 22
| | | |
| --- | --- | --- |
| INTERIOR | 538 SF | 50 M2 |
| EXTERIOR | 40 SF | 4 M2 |
| TOTAL | 578 SF | 54 M2 |
UNIT E
RESIDENCES
LINES 06, 07, 08, 14, 15, 16
| | | |
| --- | --- | --- |
| INTERIOR | 402 SF | 37 M2 |
| EXTERIOR | 40 SF | 4 M2 |
| TOTAL | 442 SF | 41 M2 |
UNIT F
RESIDENCES
LINES 13B
| | | |
| --- | --- | --- |
| INTERIOR | 402 SF | 37 M2 |
| EXTERIOR | 164 SF | 15 M2 |
| TOTAL | 566 SF | 52 M2 |
UNIT G
RESIDENCES
LINES 13A
| | | |
| --- | --- | --- |
| INTERIOR | 402 SF | 37 M2 |
| EXTERIOR | 40 SF | 4 M2 |
| TOTAL | 442 SF | 41 M2 |
UNIT A
RESIDENCES
LINES 02, 05, 17
| | | |
| --- | --- | --- |
| INTERIOR | 830 SF | 77 M2 |
| EXTERIOR | 210 SF | 20 M2 |
| TOTAL | 1040 SF | 97 M2 |
UNIT B
RESIDENCES
LINES 09, 10, 11, 12
1 BEDROOM + DEN
2 BATHROOMS
| | | |
| --- | --- | --- |
| INTERIOR | 603 SF | 56 M2 |
| EXTERIOR | 40 SF | 4 M2 |
| TOTAL | 643 SF | 60 M2 |
UNIT B.1
RESIDENCES
LINES 20, 21
1 BEDROOM + DEN
2 BATHROOMS
| | | |
| --- | --- | --- |
| INTERIOR | 668 SF | 62 M2 |
| EXTERIOR | 40 SF | 4 M2 |
| TOTAL | 708 SF | 66 M2 |
UNIT B.2
RESIDENCES
LINES 03, 04
1 BEDROOM + DEN
2 BATHROOMS
| | | |
| --- | --- | --- |
| INTERIOR | 622 SF | 57 M2 |
| EXTERIOR | 43 SF | 4 M2 |
| TOTAL | 665 SF | 61 M2 |
UNIT C
RESIDENCES
LINES 01, 18
| | | |
| --- | --- | --- |
| INTERIOR | 573 SF | 53 M2 |
| EXTERIOR | 130 SF | 12 M2 |
| TOTAL | 703 SF | 65 M2 |
UNIT D
RESIDENCES
LINES 19, 22
| | | |
| --- | --- | --- |
| INTERIOR | 538 SF | 50 M2 |
| EXTERIOR | 40 SF | 4 M2 |
| TOTAL | 578 SF | 54 M2 |
UNIT E
RESIDENCES
LINES 06, 07, 08, 14, 15, 16
| | | |
| --- | --- | --- |
| INTERIOR | 402 SF | 37 M2 |
| EXTERIOR | 40 SF | 4 M2 |
| TOTAL | 442 SF | 41 M2 |
UNIT F
RESIDENCES
LINES 13B
| | | |
| --- | --- | --- |
| INTERIOR | 402 SF | 37 M2 |
| EXTERIOR | 164 SF | 15 M2 |
| TOTAL | 566 SF | 52 M2 |
UNIT G
RESIDENCES
LINES 13A
| | | |
| --- | --- | --- |
| INTERIOR | 402 SF | 37 M2 |
| EXTERIOR | 40 SF | 4 M2 |
| TOTAL | 442 SF | 41 M2 |
Click through the residences below